universal solution, optimal ease of use, beautiful design Meet the 192.1200 LED Lifter SmartMetals developed the 192.1200 LED Lifter especially for LED walls and large LCD displays. An electrical in height adjustable trolley with a beautiful design. But most of all, a trolley...
Read more...
universal solution, optimal ease of use, beautiful design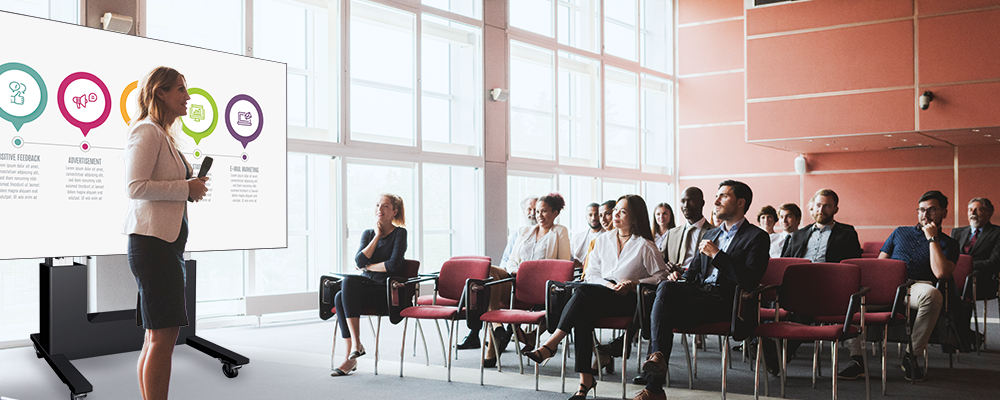 Meet the 192.1200 LED Lifter
SmartMetals developed the 192.1200 LED Lifter especially for LED walls and large LCD displays. An electrical in height adjustable trolley with a beautiful design. But most of all, a trolley that offers everything you want: flexibility, ease of use, maximum safety and exceptional quality.
For LED walls and 98+ inch LCD displays
500mm electrical in height adjustable
Easy to install
Suitable for any brand
TÜV & CE certification
Suitable for both mobile and freestanding use
Lockable storage for valuable peripherals
E-chain to safely guide cables and establish a tidy finish
Extendable with 2 anti-collision modules to maximize safety even more
Maximum load: 225 kg
Stylish design
Universal mobile mounting solution for displays from 98 inch

The LED Lifter has been specially developed for safe mounting and height adjustment of LED walls and large LCD-displays. SmartMetals recommends 98 inch as the minimum screen size. For displays smaller than 98 inch SmartMetals offers other suitable solutions.

You require an interface to mount your LED wall / LCD display to the LED Lifter. For commonly used displays from Philips, Samsung, LG and Optoma, SmartMetals offers complete, compatible interfaces. Check out all interfaces.

If your wall or display brand is not listed, please contact our Sales Team for a solution: +31 (0) 88 70 60 100 or info@smartmetals.nl.

Electrical in height adjustable for optimal ease of use

Ease of use is an important benefit of the LED Lifter. It starts with the installation. The LED Lifter is supplied as a complete solution. It only needs to be assembled as desired. Benefit for the installer: valuable time saving.

In daily use the electrical in height adjustable LED Lifter is a breath of fresh air. Adjusting the large display to the correct height is simply a push of a button. Moving the trolley to another location? Not a problem. Despite its weight, the LED Lifter can be moved smoothly and safely.

And do not worry about the dimensions. In the lowest position, the trolley fits through any regular doorway.

Elegant and stylish design

Despite its robust size, especially with 130 inch VideoWalls or more, the installation looks elegant and stylish. Making it fit seamlessly into any setting. The high-quality materials and beautiful finish give the LED Lifter a luxurious look and feel. Cables do not disturb the image, they are concealed in the e-chain and cabinet.

The LED Lifter offers lockable storage space. Within you can store not only your valuable peripherals, but anything you would like to keep out of sight, such as cables and power strips.

Also suitable for freestanding use

The 192.1200 LED Lifter comes standard with castors and adjustable feet. Is the trolley intended for use in a fixed position? In which case mounting the levelling feet is the most beautiful and best solution.
More information?
Would you like more information about the SmartMetals 192.1200 LED Lifter? Click on the link to visit the product page or contact our Sales Team at +31 88 70 60 100 or mail to info@smartmetals.nl
---
​

ELEKTRISCH HÖHENVERSTELLBARER WAGEN FÜR LED-WÄNDE UND GROßE LCD-DISPLAYS
universelle Lösung, optimale Benutzerfreundlichkeit, schönes Design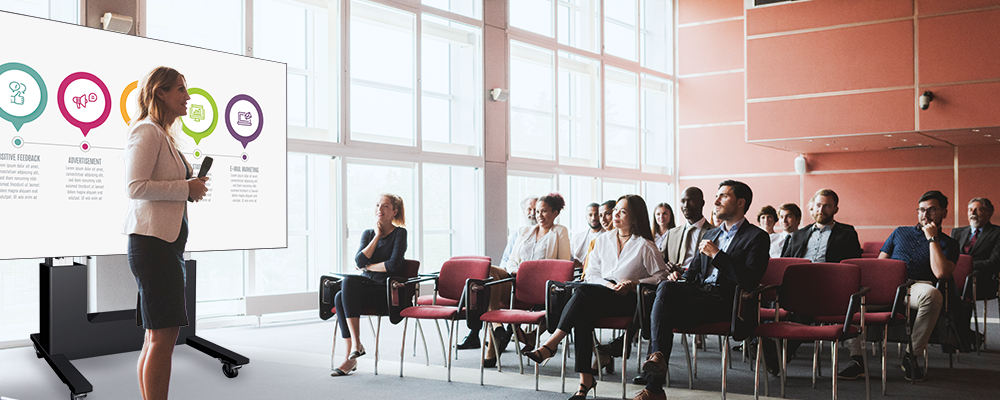 Lernen Sie den 192.1200 LED Lifter kennen
SmartMetals hat den 192.1200 LED Lifter speziell für LED-Wände und große LCD-Displays entwickelt. Ein elektrischer höhenverstellbarer Wagen mit einem schönen Design. Vor allem aber ein Wagen, der alles bietet, was Sie wollen: Flexibilität, Benutzerfreundlichkeit, maximale Sicherheit und außergewöhnliche Qualität.
Für LED-Wände und 98+ Zoll LCD-Displays
500 mm elektrisch in der Höhe einstellbar
Einfach zu installieren
Für jede Marke geeignet
TÜV & CE Zertifizierung
Geeignet für den mobilen und freistehenden Einsatz
Abschließbarer Bereich für wertvolle Peripheriegeräte
E-Kette, um Kabel sicher zu führen und ein ordentliches Finish zu erzielen
Erweiterbar mit 2 Antikollisionsmodulen, um die Sicherheit noch weiter zu maximieren
Maximale Belastung: 225 kg
Stilvolles Aussehen
Universelle mobile Montagelösung für Displays ab 98 Zoll

Der LED Lifter wurde speziell für die sichere Montage und Höhenverstellung von LED-Wänden und großen LCD-Displays entwickelt. SmartMetals empfiehlt 98 Zoll als Mindestbildschirmgröße. Für Displays kleiner als 98 Zoll bietet SmartMetals andere geeignete Lösungen.

Sie benötigen eine Schnittstelle, um Ihr LED-Wand- / LCD-Display am LED-Lifter zu befestigen. Für häufig verwendete Displays von Philips, Samsung, LG und Optoma bietet SmartMetals vollständige, kompatible Schnittstellen. Überprüfen Sie alle Schnittstellen.

Wenn Ihre Wand- oder Displaymarke nicht aufgeführt ist, wenden Sie sich an unser Verkaufsteam, um eine Lösung zu erhalten: +31 (0) 88 70 60 100 oder info@smartmetals.nl.

Elektrisch höhenverstellbar für optimale Benutzerfreundlichkeit

Benutzerfreundlichkeit ist ein wichtiger Vorteil des LED Lifter. Es beginnt mit der Installation. Der LED Lifter wird als Komplettlösung geliefert. Er muss nur wie gewünscht zusammengebaut werden. Vorteil für den Installateur: wertvolle Zeitersparnis.

Im täglichen Gebrauch ist der in der Höhe einstellbare elektrische LED-Lifter ein Hauch frischer Luft. Das Einstellen des großen Displays auf die richtige Höhe ist einfach ein Knopfdruck. Den Wagen an einen anderen Ort bringen? Kein Problem. Trotz seines Gewichts kann der LED Lifter reibungslos und sicher bewegt werden.

Und sorgen Sie sich nicht um die Abmessungen. In der niedrigsten Position passt der Wagen durch jede normale Tür.

Elegantes und stilvolles Design

Trotz seiner robusten Größe, insbesondere bei 130-Zoll-VideoWalls oder mehr, sieht die Installation elegant und stilvoll aus. Damit es sich nahtlos in jede Umgebung einfügt. Die hochwertigen Materialien und die schöne Oberfläche verleihen dem LED Lifter ein luxuriöses Erscheinungsbild. Kabel stören das Bild nicht, sie sind in der E-Kette und im Schrank verborgen.

Der LED Lifter bietet abschließbaren Stauraum. In Ihnen können Sie nicht nur Ihre wertvollen Peripheriegeräte aufbewahren, sondern auch alles, was Sie außer Sichtweite halten möchten, z. B. Kabel und Steckdosenleisten.

Auch für den freistehenden Gebrauch geeignet

Der 192.1200 LED Lifter wird standardmäßig mit Rollen und verstellbaren Füßen geliefert. Ist der Wagen für den Einsatz in einer festen Position vorgesehen? In diesem Fall ist die Montage der Nivellierfüße die schönste und beste Lösung.
Mehr Informationen?
Wünschen Sie weitere Informationen zu dem SmartMetals 192.1200 LED Lifter? Klicken Sie auf den Link, um die Produktseiten zu besuchen, oder kontaktieren Sie unser Verkaufsteam unter +31 88 70 60 100 oder senden Sie eine E-Mail an info@smartmetals.nl